The Greatest Fighting Franchise of All Time
X-Men vs. Street Fighter is a crossover fighting video game developed in 1996 published by Capcom. It is one of over a dozen variations and is considered the most successful fighting game franchise of all time. This is Capcom's third fighting game to feature Marvel's Comic characters from X-Men: Children of the Atom and Marvel Super Heroes. It is also the first installment in the Marvel vs. Capcom series.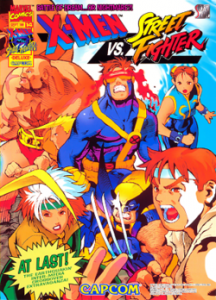 There is an array of characters to choose from featuring some of the big names from Marvel's X-Men franchise and the cast from Capcom's Street Fighter series. The game was originally released as a coin-operated arcade game in 1996; however, it was eventually converted to the Sega Saturn in 1997 and the PlayStation in 1998.
X-Men vs. Street Fighter has the familiar gameplay that experienced Street Fighter player are accustomed too. However, it incorporates dual-character selection and tag team-based combat. Initially, each player selects two characters to compete in a one-on-one battle. The object is to defeat the opposing team. The players can switch between their characters at any point during the match.
Upon its release, the game received mainly positive reviews. The critics praised its gameplay and sprite animation quality. While the Sega Saturn variations received praise for maintaining the experience of the original arcade version, the PlayStation port was met with mixed to negative critical reception for removing several features, such as tag team battles. The changes were done in response to the technical limitations of the PlayStation. A sequel to the game, Marvel Super Heroes vs. Street Fighter, was released in 1997.
As a HUGE fan of Street Fighter II growing up and X-Men V SF would have to be my favourite spin-off. It's also the only arcade game I've managed to (and continue to) beat on a single credit. Though I must say the PS1 version has proved to be a lot tougher! You'll see…
What's your favourite Street Fighter game?